Tradisjonell Vedanta - Sampradaya - Adi Shankaracharya
Tradisjonell Vedanta - Sampradaya - Adi Shankaracharya

"Ingenting frigjør mer enn selv-kunnskap."-Bhagavad Gita"​



På dette bildet vises ulike lærere i fortid og nåtid,som har blitt lært opp i Tradisjonell Vedanta - Sampradaya,som det kalles for. Adi Shankaracharya øverst,James Swartz i midten i det store bildet,Swami Paramarthananda,Swami Chinmayananda i det lille bildet i midten og til høyre Swami Dayananda.

Verset "Guru Parampara" handler om flere årtusener ubrutt muntlig undervisning mellom lærer og elev i Vedanta - Sampradaya tradisjonen.
Adi Shankaracharya var en av de første som begynte å skrive ned oversettelser og kommentarer av ulike tekster fra Upanishad ,Bhagavad Gita osv.I moderne tid er Chinmayananda og Dayananda de mest kjente. Deres undervisning fortsetter i ulike skoler verden over: Chinmaya Mission og Arsha Vidya Gurukulam blant annet.

En av elevene til Swami Paramarthananda beskriver Sampradaya på en fin måte:
Vedänta-sampradäya The word sampradäya is formed from the root, dä, to give with the prefixes sam and pra. Sam stands for samyak, which means completely and thoroughly. Pra stands for prakarñena, which means exceedingly well. 6 Thus Vedänta-sampradäya means the teaching tradition by which the knowledge of Vedänta is handed over completely and correctly. The teaching tradition becomes crucial as the transmission of the knowledge fully and correctly is fraught with problems. The words available in the language are suited only for revealing the objects of the world and not the subject. Also, the knowledge that we are the whole, without a second, is belied by our everyday experience of being a limited individual in the vast world. The validity of this knowledge is also under question by different systems of philosophy. It is the sampradäya that takes care of these problems and communicates the knowledge completely and correctly in a fully assimilable form. This keeps the knowledge alive without any loss or aberration despite the passage of time.
James Swartz synger verset Guru Parampara og man kan lese både på sanskrit og engelsk.

På sanskrit(gammel indisk og norsk oversettelse):
Sadashiva samararambham
Fra den første guru, ren eksistens/bevissthet
Shankaracharya madhyamaam
til Shankaracharya I midten
Asmad Acharya paryantaam
Og tilslutt min lærer
Vande guru paramparam
Jeg står foran guru-disippel tradisjonen

Isvaro guratmeti
Isvara, min guru,
Murthi bedha vibaghine
er bakenfor form og dualitet
Vyomavad vyapta dehaya
bakenfor rom og kroppen
Dakshinamurthtiyaa namaha
Jeg bøyer til Isvara I form av Dakshinamurthi,som bringer selv-kunnskapen

Sarva Vedanta siddhanta
importen av alle Vedanta tekster
Gocharam tamagocharam
er bakenfor det kjente og ukjente
Govindam paramanandam
det er grenseløs lykksalighet og ufødt lys
Satguru pranatoshmahaam
Jeg tilber virkeligheten som min Guru

Shankaracharya sier at kunnskapen er ikke fra han men fra lærere før han og det går helt tilbake til da Upanishad o.l. kom ut gjennom Rishis(seere). De hørte kunnskapen gjennom hymner og poetiske uttrykk.

Fra Wikipedia:
"In the Vedas the term Rishi (Sanskrit: ऋषि ṛṣi) denotes an inspired poet of Vedic hymns. Post-Vedic tradition of Hinduism regards the Rishis (or Ruesi in Laos and Thailand) as "seers" or "sages", who after intense meditation (Tapas) realized truths and eternal knowledge, which they composed into hymns."

E-Satsang: The Rishis were special av Ted Schmidt - utdrag:
"Vedanta asserts, a teacher is necessary in order to conduct effective self-inquiry, it does beg the question of how could the rishis have gained the knowledge in the absence of a teacher. First of all, we should be clear that the systematic unfoldment of the scriptures and employment of prakriyas, or specific methods of analysis, are the not the only means of gaining moksa. In fact there are probably more realized beings that have gained self-knowledge outside the teaching tradition of the sampradaya than within it. I know of no other spiritual tradition that unfolds the truth in such a systematic way as Vedanta, and yet every tradition is fraught with beings that have gained self-knowledge and have clearly understood the non-dual nature of reality.

We can`t prove this of course, but it is reasonable to assume that many people have discovered their true nature within in the context of numerous spiritual traditions. In this regard then, the rishis were no more special than the realized beings associated with other traditions. Of course what makes the teachings of the rishis unique is the systematic analysis of experience they articulated by means of which others can gain the same insights and knowledge. In this regard, the rishis were special.

Still, the question remains: How did the rishis gain self-knowledge?

Perhaps the best answer to this question is revealed though a consideration of modern scientific discovery. Basically, modern science is discovering Isvara(Creator/Creation). That is, modern science is discovering the laws that govern the operation of the manifestation, which we Vedantins know to be an apparent reality. The scientists of course do not create these laws, they simply uncover them through analysis. It is true that much prerequisite learning goes into enabling the scientists to make these discoveries, but the immediate point is that knowledge, self-knowledge included, is not created but uncovered. And because the knowledge, or the reality (which is relative, or apparent, within the context of the manifestation, but absolute with regard to the self), is already existent, it is open to discovery by anyone. Hence if someone is qualified, one can access the knowledge even without the aid of a teacher. While such occurrences are few and far between (even traditions without a systematic teaching do have teachers who at least offer some guidance), there are cases in which a person gains self-knowledge through an epiphany and assimilates it on the spot.

Ramana Maharshi is reputed to be such a person. What makes the rishis unique in this regard was that they left us with various methods of analysis by means of which we could gain the same knowledge through guided inquiry that they had gained through their independent analysis and perhaps spontaneous epiphanies as well. Hence we are left to conclude that the rishis were special. They were qualified seekers who were able to gain the knowledge without an intermediary. And as unlikely as this may seem within the context of our world today, we know that they did glean the truth because the teachings are impeccably logical, they do lead the qualified student to an indubitable apprehension of the limitless nature of conscious existence and have withstood the test of time because countless jnanis, or ones who have gained the self-knowledge that is tantamount to moksa(freedom/liberation), have attested to the fact when fully assimilated they do set one free from suffering"

ADI SHANKARACHARYA(788-820)
Adi Shankaracharya var en av de første og mest kjente som startet å skrive ned sine kommentarer fra ulike Vedanta tekster i Sampradaya-tradisjonen. De mest kjente er Tattva Bodh, Vivekachoodamani og Atma Bodh. (Man kan lese mer om dem om man trykker på hver og en av disse bøkene.)

Fra Atma Bodh-teksten vi fikk utdelt i Swartz sitt Vedanta seminar i Stavanger Oktober 2016 så står det om Shankaracharya:
"He is the first shankara with a remarkable reinterpretation of hindu scriptures, especiallay the Upanishads and Vedanta. He had a profound influence on the growth of hinduism at a time when chaos,superstition and bigotry was rampant. Shankara advocated the greatness of the Vedas and was the most famous Advaita teacher who restored Vedic Dharma and Advaita Vedanta to its pristine purity and glory.
Apart from refurbishing the scriptures,he cleansed the Vedic religious practices of ritualistic excesses and ushered in the core teaching of Vedanta, which is Advaita or non-dualism. Shankara restructured various forms of desultory religious practices into acceptable norms and stressed the ways of worship as laid down in the Vedas."

Vedanta og dens opprinnelse:

Vedanta
En formulering av denne form for yoga og erkjennelsesvitenskap finnes i de indiske vedaskriftene. Den vediske perioden antas å være mellom 2000 til 1000 år før vår tidsregning. Vedaene er åpenbart kunnskap fremkommet gjennom meditasjon og indre syn av seere og rishier. Kunnskapen antas å være formidlet fra bevissthetsplan ut over det menneskelige, med en kompleksitet og dybde utenfor enkeltpersoners mulighet til å kunne konstruere. I den vediske perioden oppstod sanskrit,ayurvedisk medisin,vedisk astrologi og flere kunnskapsdisipiner innen vitenskap,teologi og kosmologi.

Vedisk kunnskap består av fire områder, artha,kama,dharma og moksha. Artha er hvordan skape trygghet,velstand,rikdom og overflod. Kama er om tilfredsstillelse,velvære og nytelse. Det gjelder ikke bare innen elskovskunsten hvorav de mer kjente Kama-sutraene har sin opprinnelse, men i alle former for estetikk, fra matlagning til kunst. Dharma er læren om universets lovmessighet,orden og etiske grunnregler. Moksha er hvordan oppnå menneskets ultimate mål, å bli fri. Kunnskapen om dharma og moksha kalles vedanta.

Vedanta her eksistert i en ubrutt tradisjon like siden den vediske perioden. Kunnskapen har passert fra lærer til elev gjennom tusener av år og blitt jevnlig holdt ved like gjennom skrifter og undervisning. Ingen personer har eierskap over denne kunnskapen. Den er ikke basert på enkelte personers opplevelser og deres eget system,men ulike formuleringer er blitt annektert og godkjent av et større fellesskap. Vedanta er verken filosofi eller religion,men en vitenskap basert på en metode av selvrefleksjon i en logisk kritisk og systematisk undersøkelse av vår egen erfaring.

Vedanta danner grunnlag for yoga,tantra,buddhisme og flere av Østens indre veier. Antakelig har de fleste religioner også røtter i vedaene og med et enda dypere opphav i en felles global kosmologisk forståelse. Moderne historie ignorerer systematisk eksistensen av tidligere sivilisasjoner før vår tidsregning, på flere områder langt mer avanserte enn vår. Dette på tros av at monumentale byggverk fra slike forhistoriske perioder fortsatt finnes som synlige bevis flere steder på jorden. Istider,flodbølger og naturkatastrofer har fått slike sivilisasjoner til å gå under. Enkelte mennesker har antakelig overlevd og brakt kunnskap videre, men i fragmenterte og usystematiske former. En slik universell kunnskap har blitt spredd i mange ulike retninger, og den vediske kunnskapen er muligens den mest inntakte og tydeligste. Dette er spekulasjoner for å bidra til en forståelse av hvordan vedisk kunnskap har trått frem ut av et forhistorisk mørke fra en diffus og ukjent opprinnelse.

Vedanta består av tre sentrale deler: Upanishadene, Brahmasutraene og Bhagavad Gita.

-Det er vanlig for noen lærere i ikke-dualitetskretser o.l.idag å hevde at deres kunnskap er fra Vedanta eller at de er lærere av Advaita Vedanta,men det er få av dem som følger den systematiske,møysommelige og omfattende kunnskapen i sin helhet,som Sampradaya tradisjonen følger og det blir som oftest bruddstykker man hører eller leser om. Et eksempel på en veldig systematisk og nøye analyse av Bhagavad Gita - ved å gjengi tekster i sanskrit både i sin form og i vanlig skriftform - samt oversettelse til engelsk og kommentarer i tillegg vil jeg vise til denne siden.

Swami Paramarthananda, en elev av Swami Dayananda(som også James Swartz var i sin tid) sine kommentarer og oversettelse av Bhagavad Gita er ganske møysommelig,systematisk og omfattende. Det er på hele 3327 sider. Hans lærer Swami Dayananda har også en lignende analyser i sin serie Bhagavad Gita Home Course på 9 bøker.

James Swartz via Shiningworld.com underviser fra samme kilder og essens,men i et vestlig format. Og det menes med at han ikke bruker så mye sanskrit ord i sin undervisning. Dvs han viser ikke til hvordan de er oversett fra sanskrit til engelsk de ulike tekster og i sin undervisning med noen unntak. Man kan se eksempel på teksten Narada Bhakti Sutras (Yoga of Love). Den første er fra de som følger 100 % tradisjonell format ,mens den andre delen er i vestlig format fra tradisjonell vedanta kunnskap,Sampradaya. )

1) Narada Bhakti Sutras for vestlig studenter med lite sanskrit og noe bedre ,mer forståelig i ord og setningsoppbygning. (James Swartz har skrevet boka Yoga Of Love hvor han kommenterer disse tekstene i sin helhet). Denne teksten er på 106 sider.

2) Narada Bhakti Sutras utifra tradisjonell format med endel sanskrit-ord inntakt i versene. Og er fra Swami Paramarthananda og er på 163 sider.
Boka The Essence of Enlightenment av James Swartz er også presentert på nettet bortimot i sin helhet i denne siden under 1 års kurs:
1 års kurs - 14 ulike kapitler

Det er veldig møysommelig og systematisk bygget opp av tradisjonell Sampradaya kunnskapen i et vestlig format hvor man ikke bruker så mye sanskrit ord som nevnt før. I nyere vedanta lære hos ulike lærere så er det mangler og spesielt emner som Karma Yoga,Value of Values,kvalifikasjoner,analyser av forskjeller på kunnskap og opplevelse,hengivenhet,skapelse/skaper mm som fjerner uvitenheten i oss om hvem vi er når vi jobber med dette på ulike måter(lytte,kontemplere/analysere og aktualisere).

Svakheter med å ha mangler og huller i sin kunnskap av en lærer med innflytelse av vedaene på ulike måter fører ofte med seg opplysningsmyter,som blir forklaret på en fin og lettlest måte i denne artikkelen fra Magasinet Visjon,som man kan lese her sånn.
Lærere som Moji,Papaji,Cohen,Gangaji,Osho og andre lignende lærere kan inspirere en på sin vei,men man vil merke at det er noe mangler i deres lære ifm vedaene og det Vedanta Sampradaya presenterer. De mangler den helheten,som skal til for moksha(frigjøring). Deres undervisning gir en mye energi(spesielt sattvisk,rolig,harmonisk og stillhet). Og det er nyttig med meditasjon,energiaktivering av ulike slag og avspenning i ens karma yoga arbeide(sadhana). Karma Yoga har med å kultivere sattvisk(rolig,stille,intelligent,harmonisk) livsstil som gjør det lettere å ta imot selv-kunnskap som fjerner uvitenhet og frigjør oss(moksha). Moksha har også med å realisere,forstå og aktualisere hvem vi er(Ubegrenset,ikke-dualistisk,full,hel,komplett,allestedsværende bevissthet/selv).
Vedanta lærer tilknyttet,Shiningworld.com Ted Schmidt nevner Direct Path,som er en slags lære utifra Vedanta av lærere som Francis Lucille,Rupert Spira og Greg Goode spesielt.Sistnevnte har skrevet noen greie bøker i Direct Path og Standing in Awareness hvor man kan undersøke selv hva det man egentlig erfarer/opplever i hverdagen.

"There is no difference between the truth revealed by the Direct Path teachings and traditional Vedanta. The difference is that while the Direct Path teaching correlates with the truth revealed by the Upanishads, it doesn`t really refer to the scripture much, if at all. Also, the Direct Path teachings are directed toward the qualified student and don?t talk at all about spiritual practice as a means to cultivating a sattvic mind that is capable of engaging in self-inquiry. Moreover, the Direct Path approach doesn`t address the topic of how to live a dharmic life within the context of the apparent reality. Though strictly speaking traditional Vedanta doesn`t focus on this issue either, there is much said, especially in the Bhagavad Gita, concerning the necessity of observing dharma as a means of cultivating the qualifications necessary to cultivate the quality of mind that enables the student to engage in effective self-inquiry and ultimately assimilate self-knowledge, and thereby gain moksa. In this regard, as you say, the karma yoga attitude is the key. It is the means of neutralizing binding vasanas, and once all bindingvasanas have been neutralized and self-knowledge has been fully assimilated, then the karma yogaattitude becomes one`s spontaneous approach to life. In regards to the karma yoga attitude and the dharmic lifestyle it provides the foundation for is the key to a peaceful mind."

Jeg har vært inspirert av Rupert Spira,Goode og Lucille på ulike måter når jeg var med i Science and Nonduality kongresser og var engasjert i den organisasjonen i noen år. Jeg glemmer ikke de fine meditasjonene i San Jose,California med Rupert Spira og de fine satsangene med Lucille. Men for meg har det alltid manglet "noe" i det de har presentert og andre lignende lærere. Så veien til Tradisjonell Vedanta,Sampradaya er for meg en endestasjon og passer naturlig for mitt sinn,som elsker nøye systematisering,refleksjoner og analyseringer av tekster fra vedaene for å undersøke mine opplevelser.

Ramana Maharshi har inspirert flere mennesker og at han var opplyst er det få som betviler. Han realiserte at han var Selv/Bevissthet pga det han opplevde som 17 åring.. Han har også fått en Upanishad godkjent så det er også noe å ta med seg.




James Swartz har kommet med sine analyser og kommenteringer rundt det Maharshi har kommet med gjennom ulike elever iform av bøker og litteratur. Man kan lese den her. Og her er et fint utdrag:

"In any case, Ramana`s response is in harmony with traditional Vedanta. Ramana had the greatest respect for the knowledge enshrined in The Science of Self Inquiry. Contrary to the notion in vogue today, concerning the irrelevance of the ancient tradition of Vedanta, he was very scripturally astute. He even wrote a scripture, Upadesha Saram, which has been granted the status of an Upanishad by the traditional Vedanta community, a great honor.

This teaching is called the discrimination between the subject?the seer and the seen? the objects. It establishes the understanding that what you see meaning experience including all mystic experiences, are not self.The one who sees them is you, the self. He says that you will realize who you are, meaning understand that you are the self, when you have separated the seer, you, from what you experience.

One thing I admire about Ramana was his refusal, unlike many modern teachers, to cook up a fancy personal teaching on the subject of self realization. His statements were in harmony with the scriptures on Yoga or Vedanta. Even though Ramana died a half century ago, he was a very modern sage, if you consider the fact that the Vedic spiritual tradition is thousands of years old.

Why did he refuse to do so? Because no modern teaching is required. The whole enlightenment business was worked out a long time ago. Enlightenment is a simple understanding of the self and its relationship to experience, the egoexperiencer and the forms the ego experiences. In a nutshell, it is the understanding that while the forms depend on the self, the self does not depend on the forms. This freedom from attachment to experience is called moksha, liberation. It is not something you obtain. It is something you are. The operative words are, has been removed. What kind of removal is it? Does the complete destruction of the unconscious tendencies, vasanas, allow you to gain the self? Or is enlightenment the removal of the notion that the world is separate from the self?

In Ramana`s teachings you will find both ideas. The word world is actually a psychological term. It does not mean the physical world. The physical world, in so far as it is actually physical, is the self. It is impersonal. No individual created it and no individual is going to remove it. But the world that Ramana says must be removed, is the psychological projections that make up an individual?s personal world. These projections are based on a belief that the self is separate, inadequate or incomplete. Ramana?s teaching is not Ramana?s teaching. It is called vichara, inquiry, and goes back several thousand years. The purpose of inquiry is knowledge, not the physical removal of the mind. If he had been teaching Yoga as a means of liberation, he would not have encouraged inquiry because Yoga is committed to the experience of samadhi, not understanding that one is the self.

James analyserer diverse uttalelser som har blitt oversatt av andre(elever) og kommer med ulike kommentarer i den teksten jeg har lagt ved.
Problemet er at noen tror at man må ha de samme opplevelsene som Maharshi for å bli opplyst og henger seg opp i opplevelsene,mens det var ikke det som gjorde han opplyst,men mer at han forstod og realiserte at han var selvet. Alle som har lignende opplevelser som han realiserer eller forstår ikke hvem de egentlig er og har andre oppfatninger av hva de har opplevd.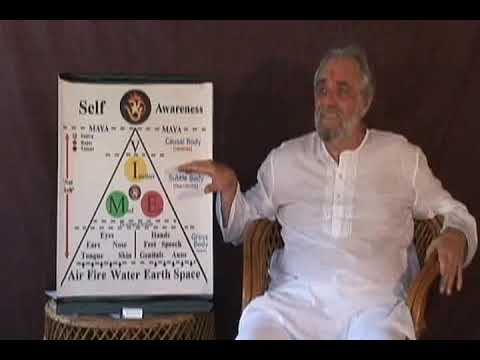 I videoen Was Ramana Maharsi wrong? så prater James Swartz om ulike opplevelser som folk tar for gitt har med opplysning å gjøre,mens det går inn under "opplysnings-myter",som det står mer om i artikkelen jeg har lagt ved fra Christian Paaske.
"How do you know that your mind is not thinking?
If the mind is dead, how do you know that the mind is dead?
You are aware of the absence of thoughts
The absence or presence of thoughts has nothing with you.
You are never not present!"

DET FJERDE STADIET
"Når sinnet blir absorbert i Selvet oppstår samadhi ifølge Patanjali. Dette er yoga og de fleste åndelige veiers ultimate mål av opplysninger eller frigjøring. Dette lanseres som en personlig opplevelse,hvor det er personen som blir opplyst. Problemet med dette er at både personen og en hvilken som helst opplevelse er et objekt i bevisstheten. Frigjøring som en opplevelse er derfor ikke mulig,fordi det jeg søker frihet fra er nettopp opplevelsene.

Denne problematikken lever i åndelige kretser i beste velgående og en måte å løse det på er å introdusere et fjerde bevissthetsstadie,Turya. Det finnes tre bevissthetsstadier hvor alle opplevelser finner sted. Våken tilstand,drøm og dyp søvn, eller Vishva,Tajisa og Pranja. Problemet med Turya og et eventuelt fjerde bevissthetsstadie blir igjen hvem som opplever det? Dersom det skal finnes noe utenfor bevissthet som skal oppleve bevissthet blir dette dualisme. I en ikke-dualistisk virkelighet er turya ikke mulig.

Tradisjonell vedanta i tradisjonen fra Swami Chinmayananda og James Swartz er klar på at Selvet kan ikke oppleves, det kan kun forstås. Frigjøring er ikke en opplevelse,men en viten. Andre grener av vedanta også kalt neo-advaita mener imidlertid at med det fjerde stadiet er opplevelse av Selvet mulig. Imidlertid opplever jeg refleksjonen av Selvet hele tiden. Alt jeg opplever er bevisstheten reflektert som et speil i form av opplevelser. Bevisstheten i seg selv kan ikke gjøres til et objekt og gjenstand for opplevelse eller observasjon.

Spektakulære opplevelser i meditasjon er fullt mulig. Det finnes ulike stadier av samadhi og ikke-dualistiske opplevelser forekommer. Særlig personer med nær døden-opplevelser rapporterer om tilstander av grenseløs lykke,kjærlighet, tidløshet og kosmisk enhet. Slike opplevelser kan være til stor inspirasjon og viktig skritt til en dypere forståelse a ikke-dualisme. Det er fortsatt refleksjoner av Selvet og ikke Selvet i seg selv.

Faren er å gjøre opplevelsen til et mål istedenfor en mulighet til å lære fra opplevelsen. Ramana Maharshi er et eksempel på akkurat dette. Gjennom samadhi allerede i ung alder ble han fri. Det var ikke opplevelsen som frigjorde han,men forståelsen som fulgte i kjølvannet. Dette er sjeldent. De fleste kommer til frigjøring gjennom kunnskap og ikke opplevelser. Det er rom for opplevelser,men de må forstås i sin rette sammenheng.

Som nevnt før så kan man la seg inspirere av ulike moderne lærere eller bli inspirert av lærere fra fortiden som ikke fulgte fullt ut Vedanta Sampradaya undervisningen. Men gjennom Vedanta Sampradaya lærere så vil man ikke miste noe på veien av det vedaene gir oss av kunnskap og man får også undervisning av kvalifiserte lærere som bruker tradisjonell format eller vestlig format.Problemet med mangler i læren hos såkalte ikke-dualistiske lærere eller lærere som har blitt inspirert av vedaene er at man lett kan ta egne personlige meninger styre hva som skiller mellom kunnskap og uvitenhet om oss og virkeligheten i våre undersøkelser.
Og de som følger Vedanta Sampradaya tradisjonen lar læren/skriftene - den upersonlige metodikken som et middel til kunnskap - for å fjerne uvitenhet - styre og ikke ens meninger og synsing om hva som er riktig eller sant. Å ha tillit til læren er jo en av kvalifikasjonene.
Det er noe man får finne ut /undersøke selv. En lærer kan ikke gi en elev opplysning eller fjerne uvitenhet for en person,men undervise i en metodikk som gjør at man kan selv jobbe med å undersøke virkeligheten og det en opplever.

På denne linken står det mer om noen disse lærerene som har blitt lært opp i Vedanta Sampradaya tradisjonen,som man kan ta kontakt med i India,USA,England,Tyskland og andre steder.
Swami Chinmayananda

Tilslutt så vil jeg nevne en vitenskapsmann som har samme tanker som Vedanta - at det vi ser og oppfatter viser ikke hva virkeligheten egentlig er. Jeg så hans foredrag i 2013 og 2014 i Science and Nonduality kongresser i California. Hans navn er Donald Hoffman. Donald D. Hoffman, er en professor of cognitive science ved University of California,

" Hoffman has spent the past three decades studying perception, artificial intelligence, evolutionary game theory and the brain, and his conclusion is a dramatic one: The world presented to us by our perceptions is nothing like reality. What`s more, he says, we have evolution itself to thank for this magnificent illusion, as it maximizes evolutionary fitness by driving truth to extinction."

Man kan lese mer om det i denne artikkelen THE CASE AGAINST REALITY